Programme: 2017 – 2018
All meetings are held (unless otherwise stated) at 7.30 p.m. in the Lord Mayor's Room of the New Walk Museum, Leicester ( Entrance is via the front door: for disabled access please use the wooden access ramp, off the Museum Car park.) Car parking is available on the adjacent streets, and the Museum is within walking distance of the railway station and major bus routes. The room is open from 7.15 p.m. and proceedings usually finish around 9.00 pm.
Highlights:
---
President's Address:
LEICESTER'S DEBT TO A VICTORIAN ENGINEER: JOSEPH GORDON (1837-1889)
The outgoing President Professor Alison Yarrington, the new President Sir Kent Woods (seated) and the Lord Mayor of Leicester Councillor Rashmikant Joshi
This is an open meeting followed by a social gathering.
The Lord Mayor of Leicester will attend.
---
The Leicester Literary and Philosophical Society, Leicester Museum and Art Gallery Joint Lecture:
A future Emperor goes East: The visit of the Prince of Wales to India 1875-6
Professor John MacKenzie
Emeritus Professor of imperial history at Lancaster University and founder of the Manchester University Press 'Studies in Imperialism' series (1984)
This talk is in support of the current exhibition: Splendours of The Subcontinent : A Prince's Tour of India 1875-6
By permission of the Royal Collection Trust
---
JOE ORTON AND SHAKESPEARE: LIBRARY BOOKS, CLASS AND QUEERNESS
Dr Emma Parker
Associate Professor of English, School of Arts University of Leicester
This lecture will examine what the library book covers that Orton defaced (or redesigned) with his partner Keith Halliwell reveal about his subversive attitude to the Bard, social class and sexuality in mid-century Britain.
After the lecture …
---
THE TRUE STORY OF JFK'S FAVOURITE SISTER, AND THE HEIR TO CHATSWORTH
Paula Byrne's international bestseller brings to life the story of the vivacious, unconventional – and nearly forgotten – young Kennedy sister, who charmed American and British high society.
Dr Paula Byrne
Biographer
Sponsored by the University of Leicester
---
THE WAR OF THE PORTRAITISTS: ARTISTIC COMPETITION AND THE DYNAMICS OF EXHIBITION CULTURE IN GEORGIAN LONDON
Professor Mark Hallett
Director of Studies, Paul Mellon Centre for Studies in British Art, visiting professor at the Courtauld Institute of Art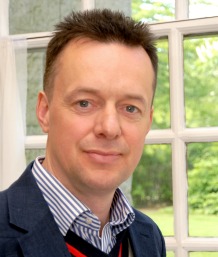 In the spring of 1792, Sir Joshua Reynolds, President of the Royal Academy and leading portraitist of his day, died in his house at Leicester Square in London. A few months later, the Academy's annual summer exhibition bore witness to the beginnings of an intense struggle for prominence on the part of a group of leading British portraitists, each of whom hoped to fill the artistic and cultural vacuum left by Reynolds's death. Thanks to a remarkable raft of surviving images of that year's Academy show, we can, not only recover this struggle as it played itself out across the walls of the display, but address far larger questions about the ways in which images – and portraits in particular – operate and interact within the exhibition environment.
Professor Hallet giving his lecture:
Sponsored by Loughborough University.
---
DEMOCRACY, DEMAGOGUERY AND PLATO
Professor Angie Hobbs
Professor of the Public Understanding of Philosophy University of Sheffield
In the past few years, various groups with opposing aims in a number of countries have claimed that they are the champions of democracy, 'rule by the people', and there is huge confusion and disagreement about who are 'the people' and what really constitutes their 'rule'. In this talk Angie Hobbs argues that Plato, despite the fact that his experience was of direct democracy and not the liberal representational democracy that emerged in the seventeenth and eighteenth centuries, can be of great assistance in helping us think through these issues: although he is no fan of (direct) democracy, his analysis of its charms and weaknesses is nevertheless illuminating and his account of how democracy can be subverted into a far worse tyranny by a cynical and opportunistic demagogue is devastating. Plato also helps us understand what is really involved in 'rule' based on reason and evidence, and what kind of political, social and educational conditions are necessary to achieve it.
Dr Angie Hobbs giving her lecture to the Society:
Seasonal refreshments will be served after the lecture
Sponsored by De Montfort University
---
WHAT CAN WE LEARN FROM THE HISTORY OF SCIENCE?
Professor Hasok Chang
Hans Rausing Professor of History and Philosophy of Science, University of Cambridge
Professor Hasok Chang with Dr Angela O'Sullivan (British Science Association) and Prof. Sir Kent Woods (President of the Lit and Phil)
In a progressive endeavour such as science, it may seem that there is nothing significant to learn from history: past science would at best include inferior versions of our current knowledge. Contrary to this common impression, I will argue that science can benefit significantly from attention to its own past. Useful ideas and facts do get left behind especially after paradigm shifts, and historical work can recover them. Our critical awareness is enhanced by learning that past scientists have conceived and engaged with the world in valid ways that are very different .from our own. Such historical recovery and critical awareness can also prompt new ideas and experiments that mainstream scientists may not easily think of. These points will be illustrated with a number of examples especially from the history of chemistry.
Sponsored by the British Science Association
TECTONIC EVOLUTION OF EARTH
Professor John Dewey FRS
On Monday January 22nd 2018, Professor John Dewey FRS will give a lecture on the "Tectonic Evolution of Earth". He writes; 'The drive for much of Earth process is heat loss. For the last two billion years this has been by plate tectonics, the cooling of the lithosphere and hydrothermal circulation at oceanic ridges. Prior to two billion years ago, the Earth had a stagnant lid and heat loss was mainly by plutonism and volcanism by mantle plumes.' Building on the theory of plate tectonics in the 1960s and 70s Professor Dewey has become an authority on the development and evolution of mountain ranges.
Following his graduation from Imperial College, Emeritus Professor and Supernumerary Fellow of Oxford University, John Dewey has taught and carried out his research at Universities in the UK and the States, including Manchester, Cambridge, Durham, State University of New York and University of California. He was made a Fellow of the Royal Society in 1985 and has received numerous medals and awards. His interests are fishing, swimming, cycling, playing cricket and tennis and walking the hills. He also enjoys building a model railway along a geologically accurate Alpine route.
Joint Lecture with the Geology Section
---
Leicester Mercury Media lecture:
FROM TYPEWRITERS TO TWITTER, THE CHANGING FACE OF YOUR NEWS
Mr Richard Bowyer,
Senior lecturer at Derby University
This lecture will look at the revolution in news, not only how it is consumed but also produced by the 21st century journalist and asks, can newspapers survive?
Sponsored by Leicester Mercury
---
BREATHING SPACE
Professor CL Paul Thomas
Analytical Scientist, Dept. of Chemistry, Loughborough University
A wise woman teaching a group of us how to be better lecturers placed a firm hand across my solar plexus. "Breathe." she smiled, "Breathe from here. Communication is all about breathing".
As your stale and oxygen depleted blood flows towards the vena cava super highway it draws metabolic waste from all the tissues in your body. Into and through your right heart to your lungs at a 100,000 beats per day the volatile by- products of your body's biochemistry are exchanged into your breath, and 30,000 times a day your exhale a complicated signature that communicates your body's metabolic processes . To test the premise that exhaled breath offers a way to faster and cheaper medical tests a substantial research effort has established and developed the science and technology of breath analysis. This lecture will describe the current state of the art of breath-based diagnosis with examples drawn from current studies involving mass casualty triage, stress detection and current clinical studies being run in partnership between Leicester and Loughborough Universities.
Will future visits to your GP involve a breath test? The answer may lie in the results of proposed research to monitor astronaut health on future missions to the moon and Mars through breath analysis.
Sponsored by The Royal Society of Chemistry
---
CUCKOO- CHEATING BY NATURE
Professor Nick Davies FRS,
Professor of Behavioural Ecology, University of Cambridge
The cuckoo is our herald of spring but for many other birds its arrival is a signal of doom, for the cuckoo is Nature's most notorious cheat. The sight of a little warbler or pipit feeding an enormous cuckoo chick has astonished human observers for centuries. Why are these little birds apparently so easily tricked? In this talk I will show how field observations and experiments reveal a continuing evolutionary arms race, in which escalating host defences have led to remarkable cuckoo trickery, including different guises in female cuckoos, forgeries of host eggs and manipulative begging by cuckoo chicks.
Joint lecture with the Natural History Section
---
EVOLUTION: CONVERGENCE, ANIMAL COGNITION AND EXTRA-TERRESTRIALS
Professor Simon Conway Morris FRS
Department of Earth Sciences, University of Cambridge
Funny how starting one's career studying fossil worms from the Burgess Shale one can end up talking about extra-terrestrials. But there are links. "Re-run the tape of life" said Stephen Jay Gould and the outcome will be totally different; not humans, for example. Evolutionary convergence points to exactly the opposite conclusion. But if evolution is broadly predictable, then where are the extra-terrestrials? Equally problematic is, given advance cognition evolved multiple times (dolphins, crows octopus), then how come only one species thinks it is worthwhile to join Leicester Literary and Philosophical Society?
Funny old world.
---
Annual General Meeting (NB 6.45 pm)
FOLLOWED BY A RECITAL BY WIND INSTRUMENTALISTS FROM THE BARDI ORCHESTRA
Conductor: David Calow
Wine will be served in the interval